Services We offer assistance for each of our applications through purchasing Support ( maintenance). To clients who have purchased application Support we guarantee proper reaction times and repairs in the event of failure as well as free updates of the application in...
We offer an application to fully service your holiday calendar.
The main functions of the application:
The application services the employees working on free days and in the standard working time system,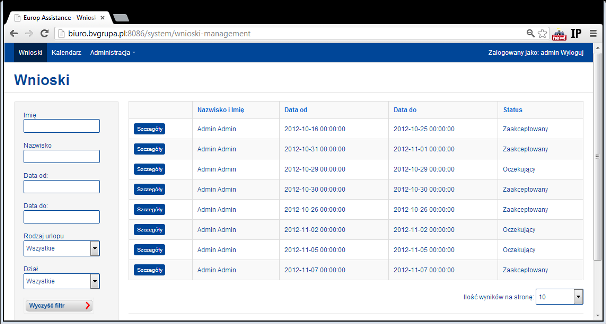 The employee ticks the days on which they will be on holiday leave. The system itself calculates the status of holiday leave use,
Each employee can see the holiday calendar of the other employees (depending on the authorizations),
It is possible to define the employee hierarchy and its import,
Everything is performed electronically (PDF), without the need to print out holiday leave applications,
The initial condition and changes in the scope of the holiday leave are to be entered by the person from the HR and Payroll Department,
The holiday leave applications upon request, related to looking after children, non-paid and other ones are differentiated in the system,
The systems enables the printing of reports or the exporting of data into Excel,
It is possible to define bank holidays,,
The application is designed to work in a network,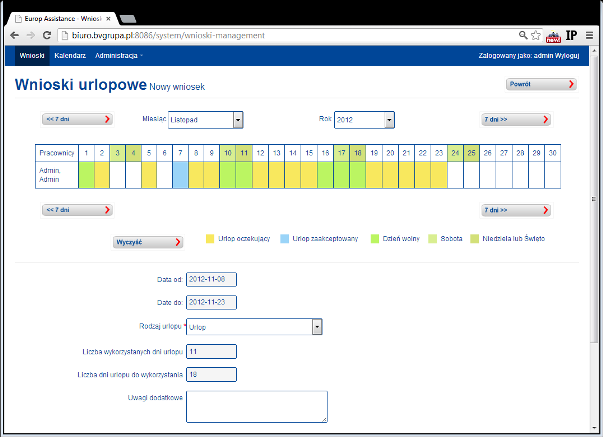 The system of accepting holiday leaves:
The employee sends information to their superior through the system,
In the system calendar the pending application appears and the superior receives an email – the application can be accepted or rejected,
The superior may review the pending applications of the employees of their department in the system and the status of holiday leave use by their employees,
The Board may access the system of pending applications and the state of the use of holiday leaves of all the employees.