Services We offer assistance for each of our applications through purchasing Support ( maintenance). To clients who have purchased application Support we guarantee proper reaction times and repairs in the event of failure as well as free updates of the application in...
E-court is a service of a completely electronic data exchange with the court's electronic department. It is currently available for civil cases (an electronic admonishing proceeding) but it soon will be available also in bank-customer cases based on the BTU law. Plaints, verdicts and all the correspondence in sent electronically via the interface available at  www.esad.gov.pl.
What does our system do?
Our system connects with the e-court's interface, it downloads the data from the customer's company's database, creates correct court summons, petitions and other types of documents and sends them to the e-court in the arranged schedules. It also downloads the data from the e-court (verdicts, correspondence etc.) places them in the customer's database and additionally creates a PDF version of the verdicts and correspondence allowing the subsequent, traditional processing of these documents in the particular proceeding (for example eviction cases).
Who is the system designed for?
Big vindication companies, banks, telecommunication companies, TV networks, media and other firms which have a big customers database – particularly customers paying a license fee.
Legal practices dealing with vindication cases or offering other companies mass legal services which may result in commencing an admonition proceeding if necessary.
The law firms can use the system to offer additional services to their customers – mass summoning, slef service summoning and other modern products.
Cooperation overview
The product is individually adjusted to a particular customer. The module of data exchanging with  e-court gov.com is fixed but the form of printouts, ways of management (CLI, GUI), how and where are the data stored in databases and how they are exchanged with the customer's systems – all that is discussed and implemented separately.
Optionally, together with our customer, we deliver a know how on vindication with the use of e-courts as well as additional applications supporting a vindication process.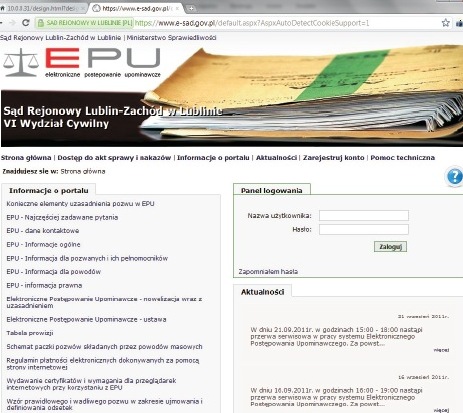 Advantages
More efficient employees' work-time usage, one WWW interface can be used by a lawyer to send a package with 500 cases. Preparation and sending is very time-consuming and is not productive enough. With the help of our system sending may take place at night and virtually limitless number of cases can be sent.
More efficient work, with www there's no automatic correspondence receiving when it appears, linking correspondence with some particular cases etc.
Less errors, the data is processed automatically – less room for human error.
Summons and suits lodging processes are automatically implemented based on data from the databases.