Services We offer assistance for each of our applications through purchasing Support ( maintenance). To clients who have purchased application Support we guarantee proper reaction times and repairs in the event of failure as well as free updates of the application in...
We offer an application supporting the work of helpdesk – the automatic receipt and registration of the tickets, making the process of servicing customers semi-automatic. It can replace a complicated system of ticket notification (ticketing) or perform an auxiliary function in large helpdesk services systems. The idea of the application is to reduce the whole servicing of the application of the typical service incidents to 1 (ONE) push of the button. The application is self-activated when the service call is answered by helpdesk employee. Based on the information from the switchboard the application automatically performs the initial diagnostics of the computer of the caller and allows for the activation of remote desktop by means of one button and then shows a few buttons including the probable result of the intervention. In the case of typical problems – one push of the button closes a ticket. In less typical situation the notification to the external system may be generated.
The main functions of the application:
The (optional) server may call up a free consultant on the basis of external events (e.g. information from the switchboard that the consultant's number has been chosen, as a result of filling in a web questionnaire by the client, etc. )
Client's application is installed on the consultants' workstations, works in the background and calls up the main application windows: task review window and new order entry window.
Task review windows opened manually by the user. It services:
Transferring notifications (e.g. someone from 1st shift transfers the case to a person from 2nd shift)
Task statuses (reported, accepted for realization, transferred, currently dealt with, suspended (for a time/indefinitely), accomplished and finished, re-opened, unfinished and finished).
The recurring issues (opened anew when the solution turned out to be ineffective, etc.)
Categories of orders (enabling the simple grouping of orders concerning similar tasks, finding tasks concerning the same type of fault, etc.)
Simple statistical functions: counting the time of the tasks remaining in the respective statuses and calculating the task fulfilment time
Reporting: the reports shall be created by the client himself on the database exported to MS Excel. The application will allow export to MS Excel.
New order entry window opened either manually or on the basis an event recorded by the server application.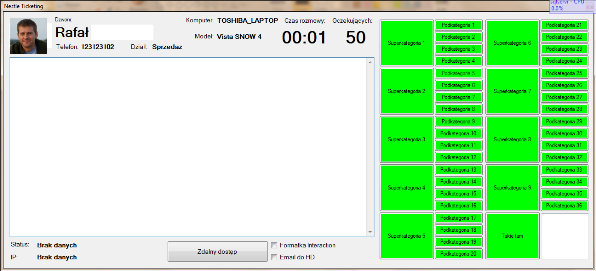 In the client's application: Accepting service notifications (as user-friendly as possible, should take as little time as possible) – one push of the button marks the solved issue and a category is assigned to it or it is marked as an unsettled issue.
The acceptance window performs the identification of the caller (provided it was opened by an event) and the verification of the caller's equipment can be performed (on the basis of the inventory database) and the basic diagnostics of the caller's computer carried out (whether it responds to PING, etc.).
From this window remote help for the caller can be activated or other actions perfumed (to be established).
The interface for accepting calls from external systems, e.g. the switchboard in order to open the new order window. We will perform the connection to a given switchboard or other sources of events – charged separately
Client self-service interface: accepting notifications by WEB with additional possible elements of initial auto diagnostics.
The elements of knowledge database of typical faults and errors (e.g. marking certain issues as 'default' for a given category, maybe some Wiki – to be agreed with the client as to the way of realization).
The connections with the existing database of fixed assets
Reporting