Services We offer assistance for each of our applications through purchasing Support ( maintenance). To clients who have purchased application Support we guarantee proper reaction times and repairs in the event of failure as well as free updates of the application in...
We offer an application to fully service the procurement of goods and services on the basis of the Public Contracts law regulations. The application supports the procurement process: recording the results of tender procedures and the demand for goods covered by the tender procedures, generating orders for suppliers of the goods covered by the tender procedures and the settlement of the fulfilment of the public contracts. The application is particularly useful in the context of framework tender procedures (gradual purchases within a framework agreement)
The main functions of the application:
Creating the Database of Goods – we enter a public contract i.e. how much of a product and within what price range we might successfully order.
Creating the demand – we select a product to which a supplier is assigned and a framework agreement from which it is to be taken.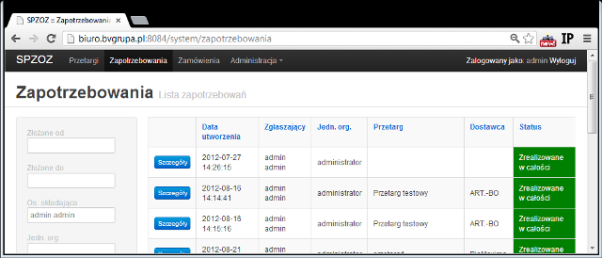 Creating block orders – on the basis of the demand, block orders are generated for the suppliers. The order for the supplier summarizes the orders of a given product, the required goods can be ordered in whole or in part, an order created, the quantity and amount removed from the public contract (from a given agreement). Then it is recorded which items were invoiced by the supplier.
The review of the order status, products that are available for ordering, the required stock levels, etc.
The results of the demands, orders, public orders.
The application is designed to work in a network.