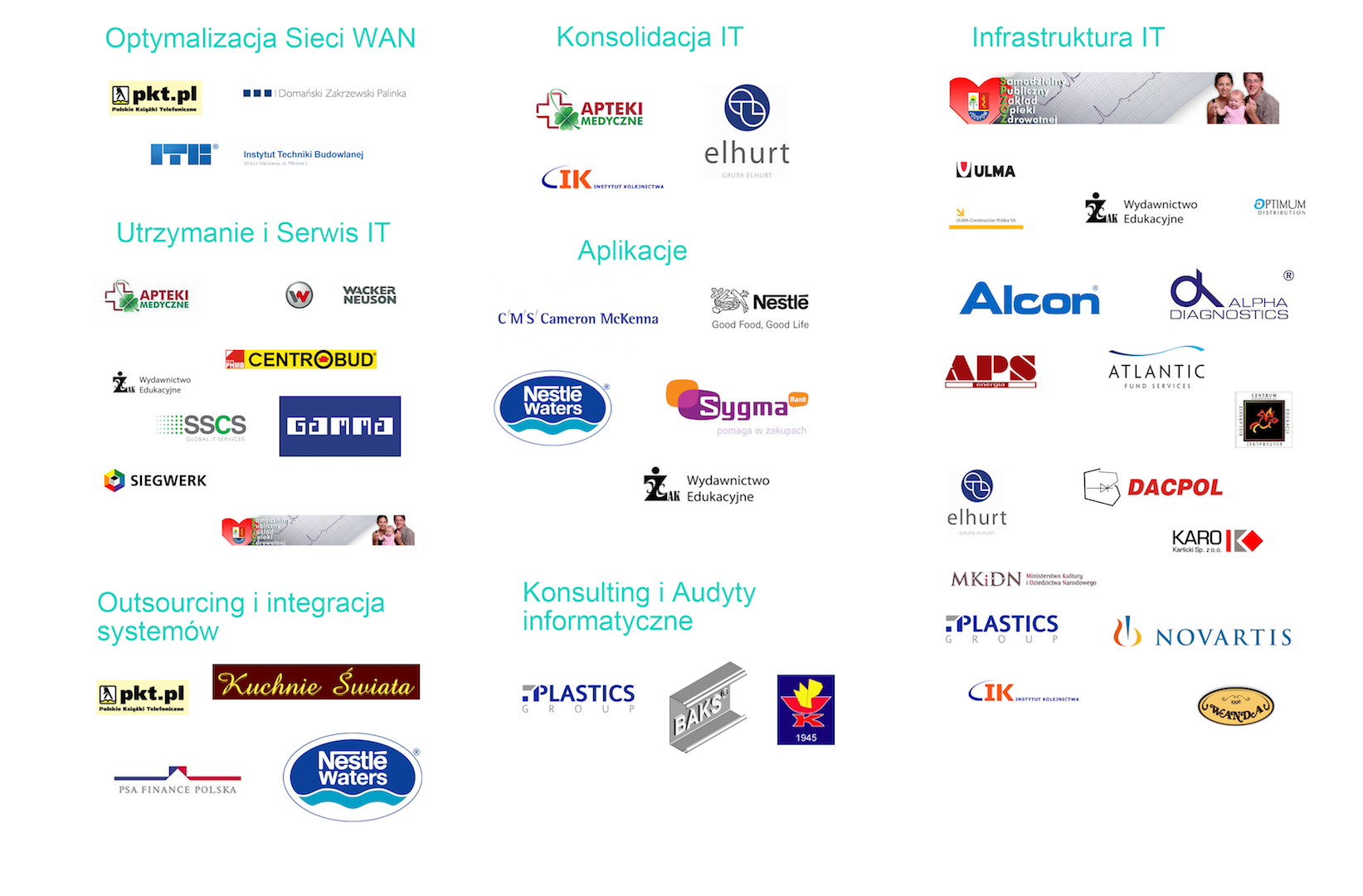 We offer our experience and references in the form of the list of projects performed DIRECTLY by the persons delegated by BV Group to work on a given project. Below you can find the collection of selected references and experiences including all the software developers of the company.
Projects:
Selfcare and business-to-business e-commerce portal for client in the food industry – around 200 000 served customers, portal launched in the 4 European countries, budget exceed 1 000 000 zloty for programming work.
Key functionality:
ordering delivery, order picking, changing and buying more goods for planned and additional supplies
payments – settlement of account, on-line payments (by płatności.pl),
e-invoices
marketing – promotions, banner ads, extra upsell proposals etc
module of management catalogue of goods
logistics (delivery scheduling, delaying, cancelling, checking if goods fit to the trucks for selected deliveries etc)
Technologies:
ASP.NET 3.5/4.0
AJAX
MS SQL Server 2005
eBOK (customer self-service)
The electronic submission of claims, receiving letters and correspondence within first in Poland electronic court department – Electronic Writ Proceedings. System can work standalone or as a part of customer's claims system.
Key functionality:
data downlowading from customer`s database, creating properly formulated lawsuits, proposals and letters
sending suits and letters through webservice interface to the court
receiving correspondence from the court through an webservice interface, parsing this correspondance to database on the client side
additionally creating human readable documents – in HTML and PDF format – for example  sentence in readable form for debt collectors
Technologies:
console application in .NET
XML, Webservice, XLT
Oracle SQL, MS SQL 
System for communication with e-courts
Program created on behalf of the educational publishing for mass distribution to teachers (wide distribution of boxed software on CD, download from website etc).
Key functionality: 
Gathering student data, data regarding particular estimation
editing data needed to formulate descriptive assessment
formulating sentences in Polish on the basis of specially created criteria specified in XML files and based on data collected about the student. Result is the text formulated like human being would formulate it.
printing certificates on official school promotion forms provided by Ministry of Education (MEN)
printing descriptive assessment according to MEN`s pattern
Technologies:
WinForms application in .NET`s technologies
Program for creating descriptive assessment for teachers of primary school
 System is integrated with call center system in huge international food concern. Wheneve the call arrives at IT support call center – the system is collecting information about a caller, his hardware, automatically performing basic check on caller's hardware (is it reachable by ping and some further diagnostics) and presenting it to the IT employees, later works as a standard ticketing system with one exception – for most common cases it requires only 1 click (exactly one) to solve the issue and close the ticket with all information gathered. System works as a client / server
Key functionality:
responding to events coming from the telephone switch – incoming calls,  length of a queue on a call center`s group
automatic opening window on the description of the problem`s notification with the person who received the call, automatically collect and display caller data, equipment and problems held by him etc.
solved very ergonomically intervention results service personel (in 90% of cases with just one click)
integration with external systems for applications (HP`s company) – creating ready tickets in XML/Webform`s version
integration with external data base of hardware and software
Technologies:
.NET 1.0 (for parts which intertere with PABX)
.NET 3.5/4.0 ( for part which is serving members)
SQL
System for IS support ticketing integrated with the telephone PABX
Application for reducing costs of ownership for applications licenced based on concurrent-user model. Our utlility attaches itself to tracked application, monitors real use of the application (mouse clicks, keyboard input into the application etc). When the user is not using the application but the application is working in background – utility is able to warn the user that he should release the licence and/or gently shut down application in background.
Key functionality:
tiny utlility using almost no resources (few kilobytes)
untraceable: no exe file, no process in the process list – completely hidden from the    user
integration with mass deployment,
support for opening of service windows (shut down all instances of certain application in the whole company for upgrade purposes etc).
Technologies:
System for controlling licence usage of specialized application and reducing licencing costs
Complete homeserver application installable on embedded devices, connecting to EIB/KNX based intelligent building infrastructure. Adding intelligence to existing installation, interfacing intelligent building infrastructure to non-intelligent devices, adding single portal for all buildings serviced by the same company.
Key functionality:
installable on embedded devices

complete homeserver with rules, events, schedules etc.
easy to use web based interface for use and programming
portal adding single point of interface for all emergency services: lift repairs, fire, police, security and medicine emergency – automating alarming and reporting.
integration with billing systems
Technologies:

C++, XML




Ajax, Javascript
Homeserver for EIB based building automation
Application for keeping the register of shareholders, registering changes to shareholder's structure with modules for dividends, shareholder's meetings etc.
Key functionality:
Full service of shareholer`s register, stock quotation, events which are related with shareholders, shares.

Dividends: calculating, payment lists, bank transfers etc




Shareholders meetings: lists, voting, counting votes, etc.

All required by law, and additional prints
Technologies:
.NET

WinForms




SQL database
Shareholder`s register - shareholder support
The application for one of the biggest law companies in Poland. Customer required custom made tailored for his needs ultra fast and resource efficient phone book for internal purposes.
Key functionality:
hidden application in systray, minimum system requirements
very simple, intuitive user interface
very quickly find a person in telephone book on basis of multiple criteria
inteligent recognition and presenting records depending on business, assistants and secretary`s assignments (for example  searching a person displays his assistant too)
possibility to print a telephone book in PDF form
Technologies:
customer / server
XML/WWW
.NET
SQL
Specialized telephone book for law company
Augmented reality application for a museum – showing additional augmented reality layer to the exhibition – additional objects, and descriptions.
Key functionality:
augmented reality view of the museum exhibition
can be downloaded and used on visitor's phones/tablets as well as on museum's devices
Technologies:
mobile development for Android and IOS
3D objects design and graphics design
Android Market, Apple App Store
Augmented Reality Mobile application for museum
Implemented  for the customer from FMCG`s branch also in public administration.
Key functionality:
recruitment`s projects and candidates management
ads export to external sites
database of candidates
Technologies:
ASP.NET 2.0
AJAX
MS SQL Server 2005
System for recruitment
Reporting and recording employees timeworking in telecommunication`s company.
Key functionality:
serving tasks which are allocated to individual employess  
information on changes in the status of implementation of the tasks of the personnel by e-mail
raporting time working
Technologies:
ASP.NET 3.5
AJAX
MS SQL Server 2008
System for handling timeworking of helpdesk employees
 Key functionality:
creating and managing of polls based on templates
managing lists of recipients
sending created polls
detailed analysis of the carried research
Technologies:
ASP.NET 3.5
AJAX
jQuers
MS SQL Server 2008
Poll system for a company dealing with HR consulting
Key functionality:
administration and management of customer announcements
ads exports to another portals
Technologies:
ASP.NET 2.0
AJAX
MS SQL Server 2005
Web-Services
Internal portal to manage offers of job for the HR industry
Key functionality:
collection of data from an external database regarding newly registered players of  lottery and promotional coupons
management of data collected
hotline service from level of web application
communication with external apllications and databases
Technologies:
ASP.NET 3.5
AJAX
MS SQL Server 2005
WCF
Part of CRM system to operate lotteries and competitions on behalf of a large trading company
Key functionality:
telemarketing service from the level of web application, including calls to customers
implementing and recording of promotional coupons
service of promotional and lottery shares
reporting
Technologies:
ASP.NET 3.5
AJAX
jQuers
MS SQL Server 2008
System to management and support contact center in telemarketing company
Key functionality:
management of relationships with customers
support the management of company resources
integration with existing systems
Technologies:
ASP.NET 3.5
AJAX, MS SQL Server 2008
Internal system of CRM for HR companies